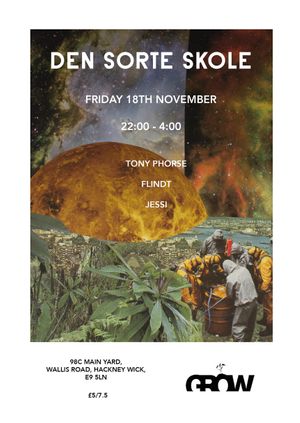 DEN SORTE SKOLE
18th Nov 2016 9pm - 3am
Add to Calendar
Event Details
DEN SORTE SKOLE
TONY PHORSE
JOHN FLINDT
JESSI
**************************************************************
DEN SORTE SKOLE
'Stone' puts you down on a porch like a character from an old western movie. Staring out across the hot dry land as sweat drips down your chin, old tin chimes set the mood. Industrial fuzz hums in the distance as chanting voices cry so quietly, piercing the subconscious mind. Looking out, you watch the black smoke mingle with red dust clouds, racing towards you until Boom! A translucent veil of Egyptian silk blows up, shrouding the landscape behind. The air pommels into it at such velocity, taking the form of a thousand horses simultaneously rearing and charging. Instruments blaze into life as as a heavy bass line kicks in, urging you forward into a chorus of handclaps against the shoulder rolling alarms.
You may call this 'Industrial Noise' but that label may be a little niche for a dj set that is selling out gigs in venues such as Copenhagen's Vega.
As a sample-based and composer group, Martin and Simon have forged a path from niche to a wider audience. Reaching conventional popular success hasn't been their intention or motivation, coming from a culture and history of hip hop. However, due to their mixing mastery they've not managed to go unnoticed.
Drop all expectations with these two. Open your ears and enjoy the trip!
John Flindt
My journey with John started in an ex-council flat in South London. When I walked into his world I met Johnny Guitar Watson lounging on a retro leather sofa with two women symmetrically stretched out at his feet and a weird sort of poodle dog by his side. Watson was looking straight at me. When he opened his mouth to speak, I began blushing at his cheesy words.
John continued to introduce me to great music as his repertoire grew through the solid eclecticism he's getting known for. It wasn't long before, his music moved out from the incubation chamber and onto the waves of his monthly Balamii radio show. You can find John has been cropping up at respected London night spots such as Corsica Studios, Fire and Lightbox

Tony Phorse
Tony's experience comes from 20years of exploring the depths of Techno. His work at Rinse Fm and his regular shows on Radar Radio have given him access to the freshest cuts from the biggest and most underground names!
Tony and John are both Northen Boys. Where as, John's music will brisk you from the concrete suburbs, his deft counterpart is very much throwing the concrete down heavy on your chest. This isn't to say you'll get crushed by Tony's heavy flow, nah! The energy his sets carry will see you and your mates streaming it all back as sound becomes very corporeal.